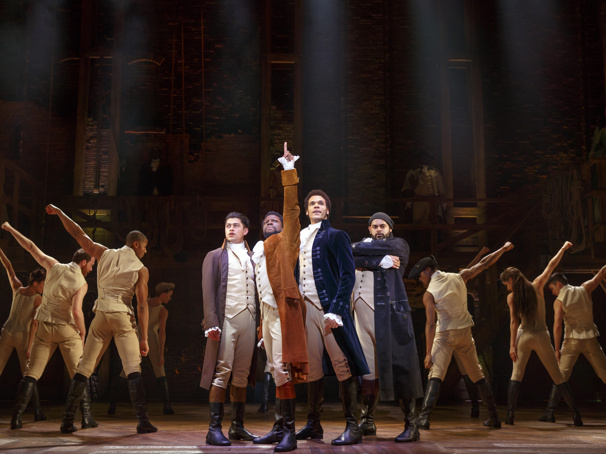 'Hamilton'
(Photo: Joan Marcus)
'Hamilton' is coming to Appleton in 19/20!
History has its eyes on you, Appleton! The touring production of Lin-Manuel Miranda's gargantuan Broadway hit Hamilton will be making a stop at the Fox Cities Performing Arts Center as part of Appleton's 2019–20 Kimberly-Clark Broadway Across America Series. Exact dates for the tour have yet to be announced, but subscribers will have first access to Hamilton seats.

So, what comes next? It's easy: the best way to guarantee your tickets to Hamilton is to purchase a season ticket package for the 2018–19 Kimberly-Clark Broadway Across America Series. Those season ticket packages will be on sale after our season announcement on March 5. Season ticket holders who renew their package for the 2019–20 season will be able to guarantee their tickets for the Hamilton engagement before tickets become available to the general public.

Hamilton is inspired by the book Alexander Hamilton by Ron Chernow. The new musical follows the scrappy young immigrant who forever changed America, from bastard orphan to Washington's right hand man, rebel to war hero, loving husband caught in the country's first sex scandal to Treasury head who made an untrusting world believe in the American economy. George Washington, Thomas Jefferson, Eliza Hamilton and lifelong Hamilton friend and foe, Aaron Burr, all make appearances in the tuner about America's fiery past.

For more information about the benefits of being a subscriber, click here. And for more information about Hamilton, visit the show's website, Facebook page, Twitter or Instagram.